So I got home today expecting to find Harry after Amazon.com's mess up, and true to their word, there is my copy awaiting me.
It has a rather fetching box that reads "Attention Muggles: Do not deliver or open until July 21st!". Glad to see amazon.com's sense of fun shining through.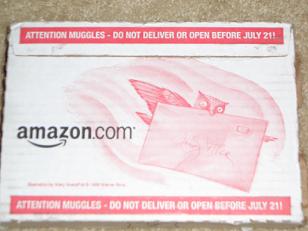 I can see how they messed up the delivery tho. From the label on the package I can see it was delivered via UPS to my local post office here in Merced. Then there is a USPS postage paid mark for them to deliver it on Saturday. Problem is we do not always get mail on Saturday, and it appears no-one stressed to USPS how important this particular package was. Ahh well, I have it now, and that is all that counts.
So please excuse me whilst I rip open the package…