Before leaving Queenstown we decided on spending the morning at the local bird / wildlife center. Again, it was great to see the local wildlife captured and on display, so that no effort is required on behalf of the tourist. What has been amazing to me is that most of the wildlife parks we have visited in both Australia and New Zealand have been privately ran affairs. It is also most endearing to see that the local population taking both care and pride in their native flora and fauna.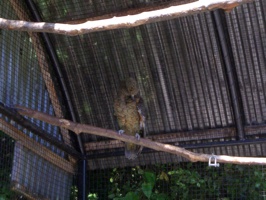 The real reason we visited the wildlife park was to see the Kiwi – the avian variant. I may have previously mentioned that before the arrival of humans, there were only 2 native mammals on the island. NZ was avian heaven. Even the two mammals flew, as they were both bats!
The Kiwi developed to be a ground creature to fill the role left by the absence of mammals. It has very mammalian features and behaviors. It burrows in the ground, cannot fly, is nocturnal, and its "feathers" are more like hair. It is a really strange creatures. At the Queenstown wildlife center, we got to see these wonderful birds in their native habitiat – a glass enclosure. We had to enter a dark room, and let our eyes grow accustomed to the dark before we could see them, but they were pretty cool. They are a lot larger than I thought, but were fascinating to watch. No photos were allowed I am afraid 🙁
After a while, the ever-ticking clock forced us to leave Queenstown, and head south. The drive out of town took us past deer park heights which is where a lot of the LOTR trilogy was shot. It is quite funny to think that right next to a huge holiday town, an airport roads, and telegraph poles the scenes of LOTR that depicted the most isolation were filmed here.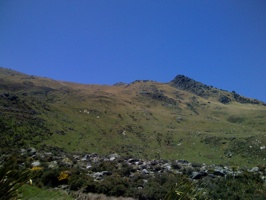 The road to Te Anau was as stunning as any in NZ. I have to admit, I have become too accustomed to the views, and am forgetting how lucky I am.