So today was very special for me, and also a little bit sad. We traveled to Akoroa, which is a little town across two volcano lava flows from Christchurch. As the crow flies, it is not very far, but the journey was to take us 1.5 hours as we climbed up and down valleys on our way through the lush lava ridges and valleys.
As we wound our ways through the ridges we got to see some amazing views of the countryside, from the flat Canterbury Plains surrounding Christchurch, to the amazing inlets surrounding Akoroa.
As we reached Akoroa, we were both extremely excited. Today we would swim with dolphins. This was something my mum had always wanted to do, so I was sad thinking of her. I also knew she would be smiling at me as I did it, so as I suited up I started to feel happier.
The Hector dolphins we were going to swim with are a little smaller than other variants of the dolphin family, and extremely endangered. I was initially concerned that perhaps our presence would not be a good thing, but the staff was great at explaining that the dolphins love to have us visit them. There are pretty strict rules however, no jumping in the water, no touching the dolphins, no sunscreen (Bad for dolphin eyes) etc.
After we had suited up into our wet suits (Water temperature was only 15 degrees centigrade), we set of.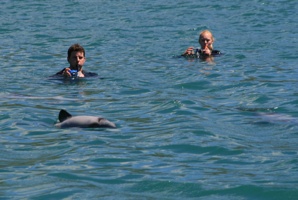 Very soon we had located a pod of dolphins. To be more accurate, a pod located us. They were breaching the water, and swimming in the bow wake. So we slowed down, and entered the water.
This was magic. Pure Magic. They are such gracefull creatures, and so curious! To attract their attention we were to sing into the water through our snorkels. As it was the season, my lovely wife and I chose to sing Christmas Carols.
We determined the best songs to attract dolphins are "Jingle Bell Rock", and "Oh Little Town of Bethlehem". They loved these…
We have a load of underwater photos, but for now here are some taken from the boat.