As I have mentioned before Queenstown is the adventure capital of the world. It is probably most famous for Bungee jumping, and boasts some quite awesome heights from which to jump from. There is also Jet boat tours along the river bank that look insane. The boats do 360 spins at 50 mph… There is skiing, parasailing, hangliding, skydiving, stunt plane flying… Imagine anything that you should only do with good life insurance, and before you are 40.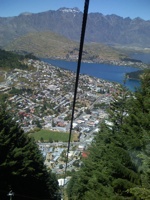 As we entered town, we saw how appealing this is to those younger than ourselves. The place is packed with hotels, hostels, and those under 25. This is a party town. But we didn't come to party we came to see the amzing lake, and its famous view of the Remarkables – otherwise known to LOTR fans as the Misty Mountains.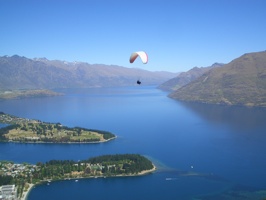 We spent the morning wandering the shopping district. We were struck by how many activities there are, and how busy it is. For a permanent population of 11000, this place is hopping. We had a light lunch at the famous FergyBurger, and then headed up the mountain side on the cable car.
At the top there is the Luge. This is basically a downhill track for a 3 wheel single bob sled. What fun. My lovely wife and I had 3 turns each.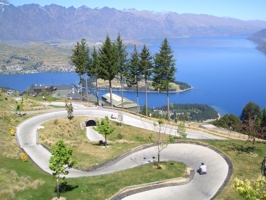 Queenstown really is situated in a lovely part of the world, but I can't help feeling it is a little tacky. However, It is amazing to be walking aling the street, and to look above you and see a parasail flyng around, then turn around and look at the mountains and the lake…