We stayed at the Hermitage Mount Cook, one of the oldest hotels in New Zealand. It is nestled on the glacial plane just below the tallest mountain in Australiasia. The drive to this mountain was stunning. The journey to the Hermitage used to take a long time, 3 days by rail and then 10 hours on horseback. Today, it took us 60 minutes from the nearby town of Twizel.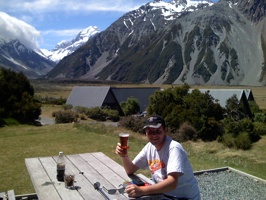 Once we arrived, we checked into a chalet with a glorious view at the bottom of the mountain. The little chalet was very cute, though the previous occupants had left us a nasty smell. But we can't win them all.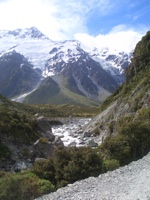 We had a bite of lunch, and then went for a walk up the Kea Trail which took us across a couple of swing bridges over treacherous gorges. Very cool
Following the walk we had dinner at the Hermitage's famous restaurant. The meal was delicious, easily the best we had had in New Zealand so far. It is definitely worth the visit, and it really was not that expensive. It costs us less than $100NZ for starters, mains, and a dessert (and a number of beers for Stuey).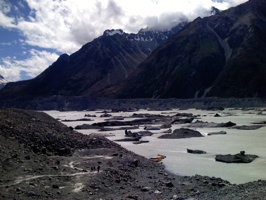 We slept very soundly that night, and in the morning we went for another walk to the glacier lake, which is basically the melting point of the glacier. From the vantage points along the walk you can see the Tasman Glacier, the lake containing glacial icebergs, and then the moraine and expanse towards to the river, and eventually lake Pukaki.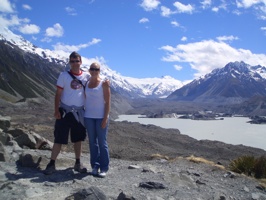 After an all too short a time we had to leave Mt Cook to head further south to stay two nights in the adventure capital of the world, Queenstown.