As I had mentioned in my last post, we had been originally scheduled to go on a rainforest safari today. The reason we made the switch was that the owner of the safari company had called to explain he had some staffing issues, and wanted to see if we were available at any other time. As we were fully booked in Cairns, we had no days free, he offered to make the effort with our other tour operators and juggle our schedule. As a way of compensation he offered us a nice bottle of wine if we visited his restaurant, which he runs in additon to the tour company. He even vame to pick us up, and dropped us back off afterwards.
Oliver's is located in the centre of downtown Cairns. It is slightly hidden, but no more so than any other premises. Oliver is German, and used to be a maitre de of a high class restaurant. When he came to Australia he worked in another fine dining establishment, and started the touring company on the side. As the business grew, he was able to to focus solely on the tour business until it grew to a point where he could open his own restaurant. And provide the local area with a high class, cultural experience.
After 4 days in Cairns, I can safely pronounce that Oliver has accomplished his goal. It is easily the best restaurant I have eaten at so far in Australia, never mind Cairns.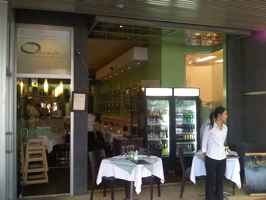 The head chef, who is French, was off the day we partook in Oliver's experience – However, the food was still first class. When a restaurant owned by a German, with a French head chef pronounces a first class authentic Australian experience, there is a little skepticism. However, think of it this way, the owner has lived in Australia for 20 years; The Head Chef is from a 2 Michelin Star restaurant, and the Sous Chef has experience in a 1 Michelin star restaurant; The ingredients are all locally grown, reared and inspired, and the décor is definitely tropical, subtle, and classy. The menu is inspired. Similar in some ways to other restaurant in the ingredients used: Kangaroo, Crocodile, Baramundi and the usual western fare. However, the quality of food is definitely far superior, the presentation is amazing, and the ambience was lovely. Oliver takes a personal, and subtle interest in every visitor, making each table feel very welcome.
If you are ever in Cairns, this restaurant is definitely worth a visit. It is a little more pricey than other places, but only slightly – and the couple of dollar difference is worth it in so many ways.