Yesterday on our way to the blue mountains we drove past the Pelco office here in Sydney. It is only a short walk from our hotel, so whilst my lovely wife was spending exorbitant amounts of money at "Paddys" ( An indoor market), I decided to walk and see the guys in the office that had somehow sold everyone in Sydney a Pelco camera.
The office is not big, and has only been here for a couple of years, but the guys there welcomed me like a prodigal son, in a typical show of Australian hospitality.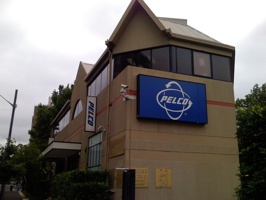 The office only has 5 people there, but they are seemingly the most successful office Pelco has. They told me about the current and upcoming projects around the area, details of which I cannot share of course, but it is all exciting. . I would bet that per dollar sold, per person employed they outstrip anyone around the world!
Great job Pelco, Sydney!