Off the plane, we cleared immigration pretty swiftly, but then had to face a long line in Quarantine. A really long line. The Aussies take their quarantine seriously, and quite rightly so. A large proportion of their natural wildlife has been threatened, is threatened, or has become extinct due to foreign invaders. In order to enter the country you are subjected to more stringent security measures than you are given to get on the plane in the first place. Your bags are x-rayed and searched, and you are asked a whole load of questions.
Once we had cleared quarantine (My lovely wife had tried and failed to get me confiscated), we were officially in Australia. We had transport arranged from the airport to the hotel, so we felt a little like rockstars as we looked for a suited gentlemen holding a placard with our name on it. Our driver, Frank, was great. He whisked the suitcases from us and led us through the airport to the car. All the way to the hotel (The Grace) he talked about many aspects of Australian life; recommendations of where to visit, where to eat. He wholeheartedly approved our plan to stay here for 5 days, he commented on how it was the perfect number of days to see Sydney – He scoffed at those who thought they could "Do Sydney" in just 2 days. Of course, I quizzed him on the best Pubs, and frantically wrote down names of the 200 or so pubs he began listing. My lovely wife looked disapproving as I scratched of plans for botanical garden walks to be replaced with a "couple of pints" at the Lord Nelsons, in the Rocks.
Frank and I talked a little about Australian politics, as there is an election coming up on Saturday, and the nation is looking like it is about to vote in new leadership. I mentioned that I got most of my knowledge of Australian politcs from "The Chaser". He loved that.
As we were entering downtown Sydney, we passed a very official looking car that he pointed out was the Governors car. The governor was inside and waved at me as I passed (I think). The location of the hotel we chose is excellent. It's a ten minute walk to the harbor side where the Sydney Opera House, and Sydney Harbor Bridge (and many, many pubs and restaurants), and a 5 minute walk to Darling harbor which is a popular nighttime haunt containing many, many pubs. I could see that life was going to be good.
Armed with a list of places to visit (Including "Manly Beach" – which sounded a bit dubious) we bid farewell to Frank, and checked in to our hotel.
We had to wait for them to finish making up our room, so we had a coffee and a bite to eat whilst we waited.
Once we had washed off the airplane germs, and changed our clothes we were ready to hit the streets.
Sydney is a wonderful mixture of old world and new. I can liken it to a cross between New York and London. It has the wonderful colonial architecture, and narrow streets of London, yet the shops of New York.
This blend of old and new world is pervasive in every analysis I have of this wonderful country so far.
The shops tend to close at 6pm, like in the UK, but the shops are very American in their feel. The buildings are a mix of colonial/Georgian, and modern skyscraper. The streets are narrow, and have European style cars, yet the people dress a little more American, but look svelte and European. My lovely wife and I seem have found a great blend of the best of both worlds!
As we walked down George St, we suddenly glimpsed the harbor, and a pie of the opera house. Then the huge bridge came into view, then all of the opera house. "Wow.
Wow. Wow. We are in Sydney, Australia." That was pretty much our reaction. The bridge is so much larger than I had imagined; The Opera House so much more beautiful. They are closer together than I had always thought as well, however there is no disappointment – only amazement.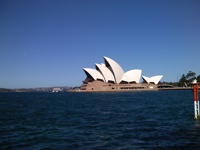 We spent a good hour or so wandering around the harbor side taking various photographs, before deciding to explore more of "the Rocks" looking for some of the pubs Frank had mentioned, and then to walk over the Harbor bridge.
In Australia, Summer is just in its infancy, so the weather is in the low 80's mid 70's. By the harbor side it was pretty windy, and as we climbed to walk over the bridge it got a little more windy. Which made the walk very interesting. As you can imagine, the views from the bridge are amazing. On the other side is a more suburban part of Sydney and we spent an hour wandering around, and did a little shopping for little knick knacks, and snacks for my midnight hunger that is sure to come.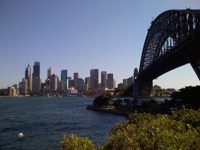 After a little while we decided to wander back to the hotel, it was approaching 5pm, and we were starting to hit the wall. Walking back across the bridge is amazing. You are walking towards the City, harbor, and the opera house with your eyes flitting between each. What a great walk.
When we got back to the hotel, we quickly freshened up, and then headed across the street to Pub for a couple of pints and dinner.
We were in bed by 8pm. We were tired out, and looking forward to a good nights sleep…